Power Cable for (n+1) Redundant Power System
CHALLENGE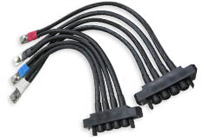 Methode was asked to design a power cable to connect two 48 VDC paralleled (n+1), redundant power supplies to a laminated bus bar situated around a sharp bend.
SOLUTION
Methode's engineers designed the cable using PowerFlex™ cable flexibility and the FusionLug® termination for single or multiple cables.
STORY
Our customer used two 48 VDC supplies configured in parallel to provide (n+1) redundant power to a telecom system. Each power supply was capable of delivering the full 150A load current to a laminated bus bar used to distribute the power within the system. The power-cable assembly needed to bend at a very tight radius to route around the cabinet door and onto the bus bar. Our team designed a custom power cable consisting of two lengths of 2 AWG cable, one for each power supply, with a custom designed injection molded connector to enclose the power contacts. The two cables were terminated in a FusionLug® that included StudLok™ captive hardware, eliminating loose components that could be lost during system assembly.esistance, thus improving thermal efficiency. As a result, the customer still met their thermal requirements—but with a smaller overall package size and more cost-effective design.