Multi-Wire FusionLug® Solves Reliability Problems
CHALLENGE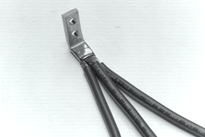 Methode was approached to improve the reliability of an existing power-cable system used to distribute 48 VDC to three separate loads.
SOLUTION
Our team replaced the original design with three PowerFlex™ cables terminated into one FusionLug®.
STORY
The customer distributed 48 VDC to three separate loads. The existing cable, consisting of a machined bracket with a large solder cup, failed frequently due to the cold solder joints. Methode designed a custom right-angle FusionLug® placed around the ends of three 6 AWG PowerFlex™ cables. The three cables were terminated with existing hardware. The new design also successfully reduced the cost of the entire assembly.