PowerRail® Distributes Redundant Power to Quick-Plug Option Modules
CHALLENGE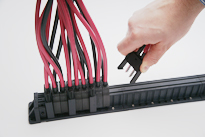 Replacement of a customer's existing bus bar and wired connections with a more reliable, quick-connect power-distribution system.
SOLUTION
Methode custom-configured a PowerRail® to replace the existing bus bar system.
STORY
Our customer's process control system used a sheet metal bus bar with hard-wired power distribution to the various control modules. This system was unreliable and made changing the various control modules very laborious. They asked Methode to design a system with greater reliability, and that required less labor when installing add-on modules.
Our team designed a 150cm long, 200A PowerRail® to fit vertically in their existing cabinet. Three 48 VDC power supplies operating in (n+1) redundant configuration supplied power to the PowerRail via 8 AWG PowerFlex™ cable terminated with jackscrew-secured mating connectors.
To power the different optional modules, custom cable assemblies with squeeze-to-release tab connectors were used to connect to the PowerRail at any available point in its 150cm length. The customer can now quickly plug up to ninety option modules into the system.