Overheated Large Drive Connector
CHALLENGE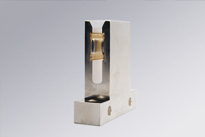 Methode was approached to create a solution that would replace a customer's existing expensive power connector that was overheating.
SOLUTION
Our engineers designed a custom 1250A blade connector.
STORY
Our customer's existing connector generated excessive heat, often exceeding a 30ºC maximum temperature rise. The connector was difficult to plug in because of its high insertion force, and was costly to operate.
Methode's Power Solution Group designed a custom 1250A blade connector that resolved the customer's problems. The new connector is rated well in excess of their current requirements, has a much lower insertion force and costs less than the old design.