Liquid-Cooled Chill Plate Redesign
CHALLENGE

Methode was approached to fabricate a customer-designed, liquid-cooled brazed heat sink.
SOLUTION
Our team improved upon the customer's design, resulting in an approach that also met their thermal and price requirements.
STORY
Customers frequently ask us to simply fabricate something that they have already designed. Just as frequently, we are able to suggest an improved design approach. Such was the case when a customer asked us to meet a challenging target price for a liquid-cooled chill plate incorporating brazed copper tubing between two aluminum plates.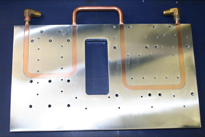 We analyzed the problem and quickly realized that we could not meet their target price using brazed technology. After reviewing the customer's thermal requirements, we suggested an alternative approach: an aluminum plate with pressed-in copper tubing, eliminating the need for brazing. This approach placed the component in direct contact with the copper tube, which lowered the overall thermal resistance, thus improving thermal efficiency. As a result, the customer still met their thermal requirements—but with a smaller overall package size and more cost-effective design.